This tomato confit with garlic and herbs is the best thing you can make this summer. The tomatoes become extra flavorful and juicy, the garlic turns into butter, and the olive oil is delicious drizzled on everything! This recipe is super easy, requiring only 5 minutes of prep time. It's also naturally gluten-free, dairy-free, and vegan. So take advantage of all the summer tomatoes and make this versatile cherry tomato confit asap!
It is no secret that I am (always) VERY excited about tomato season. There is nothing that compares to a freshly picked, vibrant red, and deliciously ripe tomato.
All it takes to please me is some bread, thick slices of sweet tomatoes, good olive oil, and some flakey salt. It's the little things in life, right?
If you're at all excited about tomato season, then you absolutely need to try my tomato panzanella with feta - I am obsessed with it. And of course I wouldn't be Lebanese if I didn't remind you to make my authentic fattoush salad.
I'm all about eating all the fresh tomatoes you can when they're in season, but sometimes you just can't keep up with the abundance of them in the summer, especially if you grow your own.
Enter cherry tomato confit, the perfect way to enjoy copious amounts of tomatoes for weeks!
What is Confit?
Confit, which is pronounced "con-fee", is derived from the French word confire, which means to preserve. Many people think confit refers only to meat that is slowly cooked and preserved in its fat, such as the popular duck confit.
However, confit is a preservation method used not only for meat, but also for fruits and vegetables. In the case of tomatoes, they are slowly cooked in a large amount of olive oil, since they do not have any fat on their own.
For a sweet confit, a concentrated sugar syrup is the liquid of choice.
A properly prepared confit can be stored at room temperature for weeks and months, making it an incredible option for preserving an abundance of seasonal ingredients.
What is The Difference Between Tomato Confit and Roasted Tomatoes?
There are a few main differences in the cooking process between tomato confit and roasted tomatoes:
First of all, tomato confit is cooked at a very low temperature, usually around 200°F, while roasted tomatoes are generally cooked at a temperature of around 400°F or so.
Secondly, to confit tomatoes, you need them fully submerged in olive oil. Whereas to roast tomatoes, you use a small amount of olive oil, just enough to coat them lightly.
Thirdly, it takes more than two hours to confit tomatoes, whereas roasting tomatoes at a high temperatures requires a fraction of the time, about 15 minutes.
As a result, the slow cooked tomatoes retain much of their plump shape, color, and freshness. On the other hand, roasted tomatoes lose a lot of their moisture and they burst and shrivel up. They also caramelize due to the higher heat, altering their flavor.
Both methods result in delicious tomatoes, but confit tomatoes are extra special and definitely worth trying out if you've never had them before!
Ingredients
Cherry tomatoes: Although you can confit any tomatoes, cherry tomatoes are exceptionally sweet and delicious, and they make the perfect little bites.
Garlic: You can make cherry tomato confit without garlic, but I love the flavor it infuses the oil with. I love to add tons of garlic that way that way I have lots of buttery garlic confit to spread on toast.
Fresh herbs: You can use whichever herbs you prefer. Here I'm making it with fresh thyme, but I also love making it with fresh rosemary or a combination of herbs.
Extra virgin olive oil: Many people say you don't need to use your best olive oil when making cherry tomato confit and that you can use a cheap, mild olive oil. But I have to disagree! A good quality extra virgin olive oil will make it that much more delicious. Plus, we won't be wasting any of the excess oil!
Instructions
Preheat your oven to 225°F. That's about 107°C. The key is low and slow so don't up the temperature to rush the process.
Place the whole cherry tomatoes, peeled garlic cloves, and fresh thyme sprigs in a small baking dish or an oven-safe saucepan.
The ingredients have to be submerged in olive oil, so if you want to use as little oil as possible, pick a narrower but taller baking dish or oven-safe saucepan. The tomatoes do not need to be in a single layer.
Sprinkle some salt over the tomatoes and garlic, then pour the olive oil in. Don't worry about "wasting" so much olive oil. I have tips on how to use it below.
Give everything a quick stir and tuck the herbs in between the tomatoes and garlic so they can infuse the oil. Shake the dish so everything can level out, and if needed, top it with more olive oil.
Place the baking dish uncovered in the preheated oven for 2.5 to 3 hours, until the tomatoes are slightly wrinkly and the garlic is easily smashed with a fork. Mine were in the oven for 2 hours and 45 minutes.
I know it's a long time, but because it's such a low temperature, you do not have to worry about babysitting the cherry tomato confit. Just set it and forget it!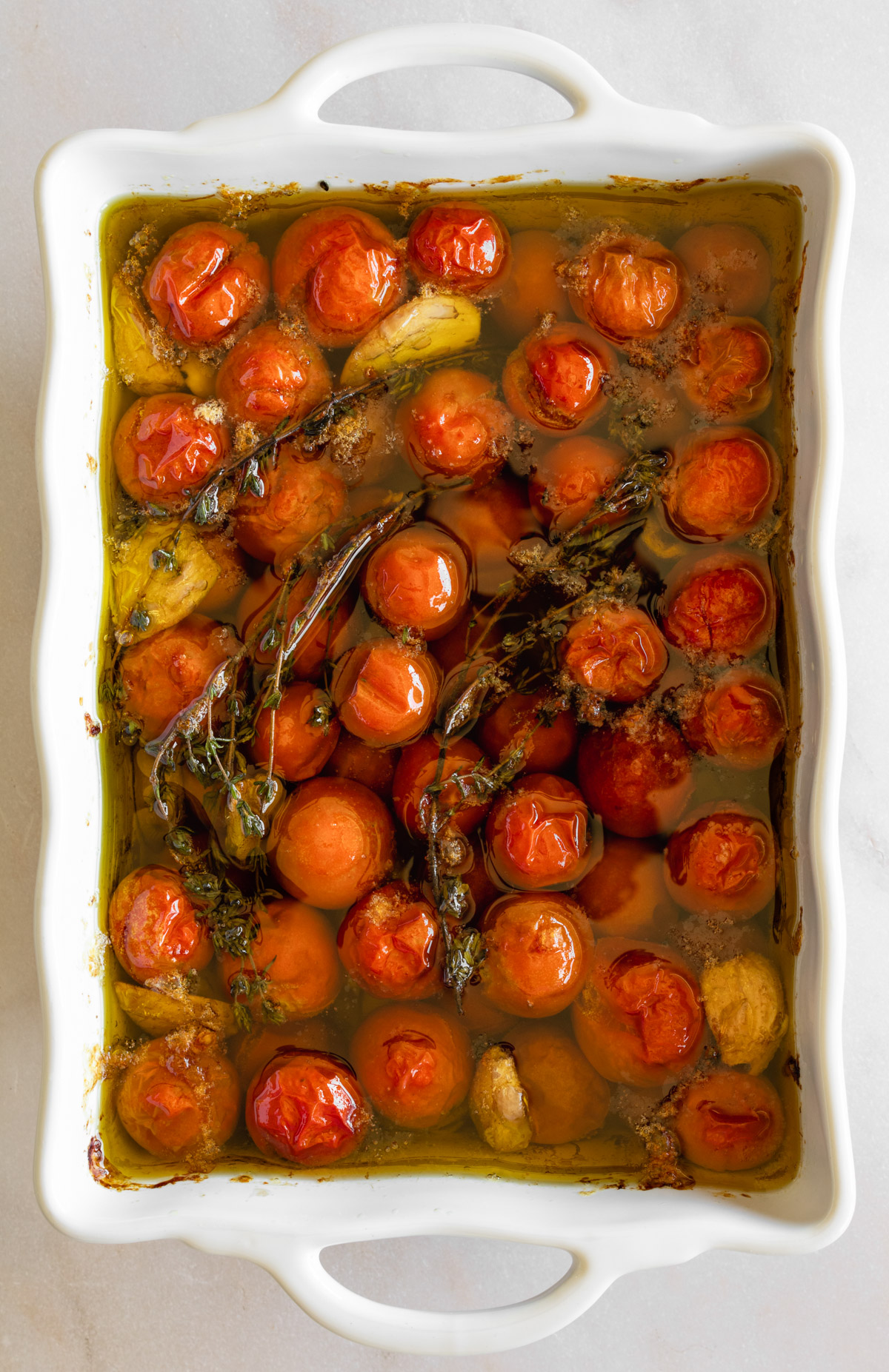 Once they're done, let the tomato confit cool completely before transferring to sterilized jars. Make sure everything is completely submerged in olive oil, as that will prevent oxidation and mold. Store the cherry tomato confit in airtight jars in the fridge for a month.
The olive oil will solidify in the refrigerator, so you'll need to spoon out the amount you want and let it sit at room temperature before serving or using.
How To Use Cherry Tomato Confit
There are so many ways to use up your delicious tomato and garlic confit! Think of them as elevated tomatoes and use them in place of fresh tomatoes in some recipes! Here are some of my favorite ways to eat cherry tomato confit:
Labneh toast: Toast up some good, crusty bread, then smear the soft confit garlic cloves on it like butter, spread some labneh all over, and top it with the plump confit tomatoes. You can smash them down if you want and drizzle a little more of the flavorful oil all over. This is probably my favorite way to eat it! If you want it dairy-free, omit the labneh or use a plant-based ricotta.
Avocado toast: Top it with cherry tomato confit and a fried egg - it's the ultimate breakfast.
Whipped feta: Make some whipped feta and top it with a copious amount of tomato and garlic confit and lots of its olive oil and serve with crusty bread. My guests always devour this one!
Pasta: For a quick dinner, boil some pasta in heavily salted water. Then in a separate pan, warm up the tomato and garlic confit with a good amount of its oil. Ladle in some of the starchy pasta water and mix to create a sauce. Drop the pasta in to coat with the sauce and grate some fresh parm on top!
Topping for meat: Spoon some tomato confit over grilled chicken or fish to elevate your dinner in a pinch.
Grazing board: Place a bowl of cherry tomato confit on a grazing board and enjoy it with crackers, cheese, and charcuterie board.
I could go on and on but you get the point! Whether you're making sandwiches, paninis, grain bowls, salads, or anything - add in some cherry tomato confit and you won't regret it!
Substitutions and Variations
This recipe is naturally gluten-free, dairy-free, and vegan.
Tomatoes: If you don't want to use cherry tomatoes, you could use any other kind of tomatoes you enjoy such as grape, plum, campari, beefsteak, etc. If using larger tomatoes, you'll want to cut them into wedges, or quarters depending on how big they are.
Garlic: I love using tons of garlic, but you can adjust the amount to your liking or completely omit it. On the other hand, you can omit the tomatoes and make a straight garlic confit using the same exact method.
Herbs: Feel free to experiment with different herbs or combinations of them.
Spicy: For some heat, add a little bit of crushed red pepper or aleppo pepper.
Sugar: Some people like to add sugar to the tomatoes to bring out more sweetness. I personally never do because I use super sweet tomatoes from my garden - they're basically like candy. But if your tomatoes are on the tart side, try adding a couple teaspoons of sugar.
Balsamic vinegar: For added depth of flavor, add a couple teaspoons of balsamic vinegar with the olive oil. I do it sometimes, though I really enjoy the simplicity without it.
Tips on Making The Best Cherry Tomato Confit
Find the best tomatoes. It kind of goes without saying, because you wouldn't care to preserve tomatoes that don't taste so good, right? Head to your farmers market for good tomatoes or befriend someone who grows their own. If buying tomatoes from the store, your best bet is 100% cherry tomatoes.
Be patient. For the first hour and a half, if you peek into the oven, it will look like nothing is happening. Don't panic and turn up the oven temperature. The low heat is very gentle and you won't see any difference until two hours into the process.
Use an olive oil you enjoy on its own. The oil will be infused with tomato, garlic, and herb flavor, so use an oil that tastes good so you can dip your bread in it or use in salad dressings.
Frequently Asked Questions
How do you store tomato confit?
Once cooled, transfer the tomato and garlic confit to sterilized jars and make sure they are fully covered with olive oil. You don't want any part of the tomatoes to be exposed to oxygen. If you don't have enough oil from the confit (highly unlikely), top it with regular olive oil. Store them airtight in the fridge for one month.
Can you freeze tomato confit?
Yes, you can freeze tomato confit up to 3 months. One way is to freeze them in airtight containers as is, and thaw them in the fridge when needed. Another way is to scoop out all the tomatoes and garlic from the oil and spread them out on a baking sheet to freeze them for an hour or two, then pop them into a freezer bag or container. If doing this, save the oil and any juice with it in the fridge. You could also freeze the tomato and garlic confit in ice cube trays and pop them out whenever you need a flavor booster.
Can you can tomato confit?
I haven't personally done it, but according to some, you can water bath can tomato confit. For reliable information, check out the resources by the National Center For Home Food Preservation.
What do you do with all the leftover tomato confit oil?
It is completely normal to have a large amount of oil leftover after you consume all the tomato and garlic confit. Use that oil like you would with regular olive oil! Make dressings with it for a boost of flavor, or use it to sauté your vegetables in it. You could also pour some in a small plate along with balsamic vinegar and dip warm crusty bread in it. Or spoon some of that delicious oil over labneh, hummus, or baba ghannoush. The options are endless! But throwing it away is not an option 🙂
See My Latest Recipes For More Delicious Ideas
If you've tried making this Tomato Confit or any other recipe on Forks & Foliage, then please don't forget to rate the recipe and leave a comment below! I would be so happy to hear how it turned out for you. And if you took any photos or videos, please share them with me on Instagram @forksandfoliage so I can see the deliciousness you made!
📖 Recipe
Tomato Confit
This tomato confit with garlic and herbs is the best thing you can make this summer. You only need 5 minutes of prep time to make this addictive condiment. It's also naturally gluten-free, dairy-free, and vegan!
Print
Pin
Rate
CALORIES PER SERVING:
257
INGREDIENTS
1 ½

pounds

cherry tomatoes

2

heads

garlic

,

peeled (20-25 cloves)

8

sprigs

fresh thyme

1

teaspoon

kosher salt

1 ½

cups

extra virgin olive oil
INSTRUCTIONS
Preheat the oven to 225°F.

Place the cherry tomatoes, garlic cloves, and fresh thyme sprigs in a small baking dish or oven-proof saucepan. Sprinkle salt evenly all over.

Pour enough olive oil until the tomatoes are submerged. It's okay if a little bit of the tomatoes are peaking above the oil, they will shrink down as they cook. Give everything a quick stir and let them settle. If needed, top with more olive oil.

Place them in the oven for 2.5 to 3 hours, or until the tomatoes are soft, slightly wrinkly, but still plump. The garlic cloves should be easily mashed with a fork.

Let the tomato confit cool completely before transferring to sterilized jars. Make sure everything is covered with oil and not exposed to air. Store the airtight jars in the fridge.
NOTES
Tomatoes: If using cherry tomatoes, leave them whole. If using larger tomatoes, cut them into wedges or quarters depending on how big they are.
Storage: Store the tomato and garlic confit in airtight jars in the fridge for one month. Make sure they are always fully covered with olive oil, and top them with regular olive oil as needed.
Please read the FAQ for more helpful tips regarding storage and serving.
NUTRITION
Calories:
257
kcal
|
Carbohydrates:
4
g
|
Protein:
1
g
|
Fat:
27
g
|
Saturated Fat:
4
g
|
Polyunsaturated Fat:
3
g
|
Monounsaturated Fat:
20
g
|
Sodium:
201
mg
|
Potassium:
147
mg
|
Fiber:
1
g
|
Sugar:
1
g
|
Vitamin A:
309
IU
|
Vitamin C:
15
mg
|
Calcium:
18
mg
|
Iron:
1
mg
Nutrition information provided is an estimate and may vary.
Did you make this recipe?
Mention @forksandfoliage or tag #forksandfoliage so I can see your delicious creations! And please don't forget to rate and comment below!