This authentic fattoush salad recipe is what summer is all about! A combination of summer's best produce is tossed with a mouthwateringly delicious dressing and crunchy homemade pita chips for the ultimate bread salad. Keep reading to learn how to make the best fattoush you'll ever have! Be warned: you'll want to drink the dressing straight!
Fattoush is a traditional bread salad that originated in Northern Lebanon. The word fattoush comes from the Arabic word "fatt" which means to break up into small pieces or crumbs.
Basically, Lebanese farmers used to fry up leftovers scraps of pita bread and toss them with whatever vegetables and herbs were in season. And now fattoush is one of the most loved salads in the Middle East and around the world!
The best time to make fattoush salad is in the summer when produce is in peak season. Sourcing the best produce has a huge bearing on how good your fattoush turns out.
If you ask me, the perfect summer dinner is a giant bowl of fattoush salad with my one pan mediterranean baked chicken and potatoes and a huge dollop of my infamous toum (garlic dip). Honestly just thinking of this combo is making me want to run to the kitchen now to make it.
If you're not into chicken, my super easy arayes with cheese or my authentic beef and lamb shawarma would pair perfectly with this fattoush too.
And if you want more summer salad ideas, trust me when I tell you that you NEED to try my tomato feta panzanella. It is incredibly delicious and so refreshing.
Ingredients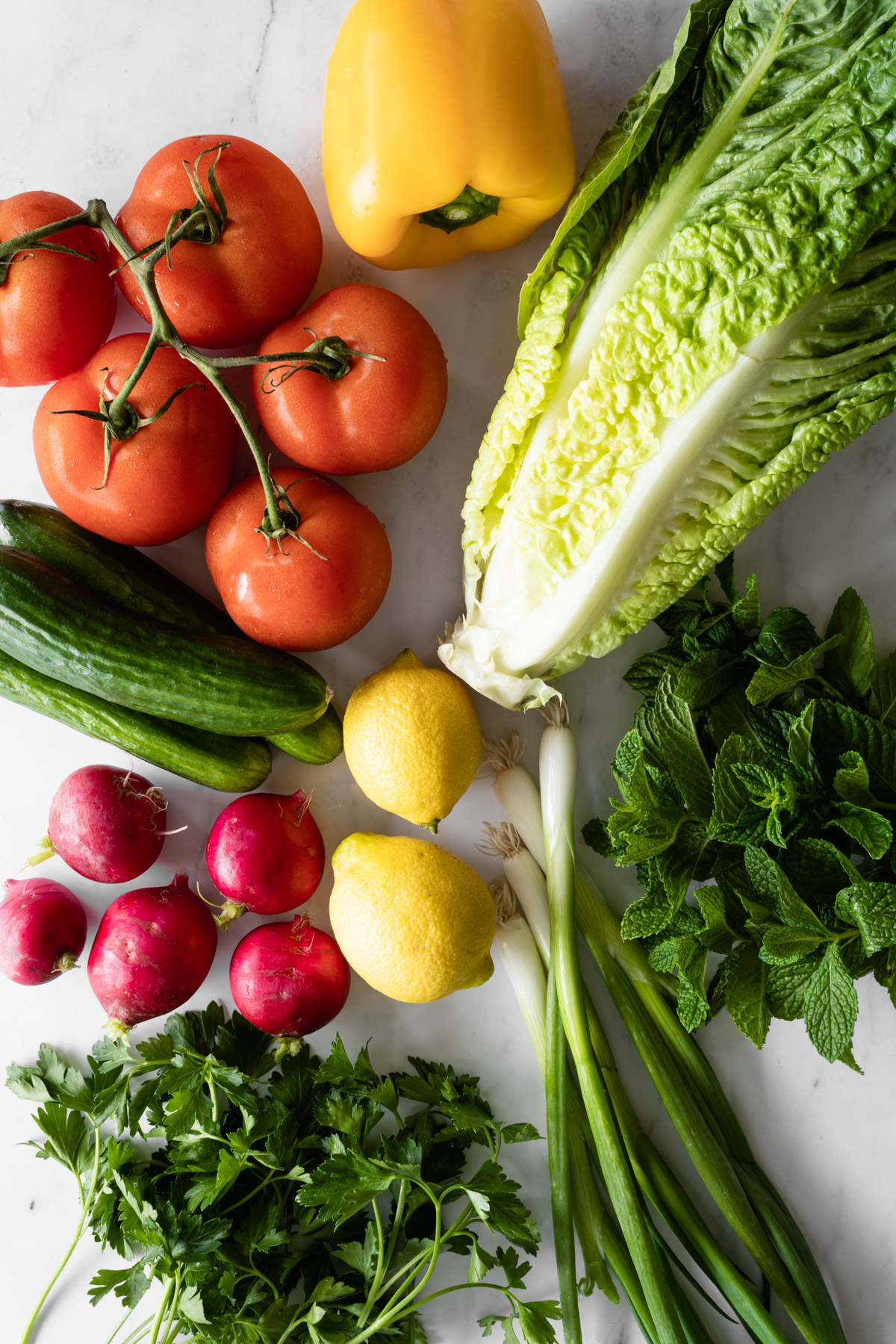 Vegetables: Romaine lettuce, purslane, cucumbers, tomatoes, bell peppers, radishes, and green onions are the traditional vegetables used in fattoush.
Herbs: Lots of fresh parsley and fresh mint give fattoush it's deliciously bright and herby flavor.
Pita bread: Traditionally, the pita bread is cut up and fried. But to avoid the extra work and fat, we often times toast the bread instead of frying it.
Dressing: Fattoush dressing consists of olive oil, lemon juice, pomegranate molasses, garlic, sumac, and dried mint. It's seriously the best.
What is Purslane?
Purslane is a very traditional ingredient used in fattoush. It is a succulent trailing plant that many consider a weed in their garden.
Fresh purslane tastes a little tangy and salty, and it has a crisp bite to it. It is a delicious addition to fattoush salad and is super nutritious.
If you have a yard or garden, look for it there. You might be in for a little surprise. Otherwise, you can find it at farmers markets and Middle Eastern and Mexican markets.
Here's a photo of the purslane growing wild and free all over our garden! Isn't it so pretty?
If you can't find purslane, you can simply omit it or add more lettuce if you like more greens in your fattoush. But if you do plan on using purslane, you don't need to chop it.
Simply pull the purslane leaves off the stems and discard the stems. The leaves are small enough to be left whole and they're so pretty.
Unfortunately, I had a brain fart while shooting this recipe and completely forgot to include the purslane. I'm so mad at myself! I was in too deep to start over but I'll update the photos in the future.
Chop The Vegetables and Herbs
First, you will need to chop all the vegetables and herbs. How small or large you chop everything is entirely up to personal preference.
Some people like to chop everything into bite sized pieces so you get a little bit of everything in each bite. In Lebanon we usually do a a medium sized chop, so it's a bit rustic looking but not too big.
This is how we chop vegetables and herbs for fattoush salad in my family.
Make The Pita Chips
Next, you need to make the pita chips. Traditionally, pita bread is fried for fattoush salad. You can do that if you want to, but in this recipe I'm showing you the healthier, easier, and quicker option which is to toast them in the oven.
Brush both sides of the pita bread with olive oil and sprinkle evenly with salt. Then cut the pita into about one inch squares and spread out in a baking sheet. You can do this on a cutting board using a knife, or cut them with kitchen shears.
Alternatively, you can leave the pita bread whole and just break it up into rustic pieces after it's toasted.
Bake the pita bread in a 400°F oven for about 8 to 10 minutes, or until the pita chips are golden brown and crunchy. If you're in a hurry, you can set the oven to broil but you have to keep an eye on them!
Make The Best Fattoush Dressing
And last but not least, you need to make the delicious fattoush dressing. Combine the olive oil, lemon juice, pomegranate molasses, grated garlic, sumac, dried mint, and salt. Whisk together until fully incorporated. Taste and adjust the salt to your liking. Don't skimp on the salt!
I know you may not have pomegranate molasses, sumac, and dried mint hanging out in your pantry if you don't usually cook Lebanese food. But trust me when I say they are worth going out of your way for. I promise, you will have plenty of opportunities to use them up in a lot of my recipes. They are KEY to the most incredible flavors and really make this authentic fattoush salad the best.
Assemble The Fattoush Salad
Now it's time to assemble the salad! Toss the vegetables, herbs, and salad dressing together in a large bowl.
I recommend using your hands to mix everything. It just tastes better that way. Don't ask me why. It also prevents bruising the vegetables from using metal tongs or spoons.
We usually don't toss in the bread until we're ready to serve the fattoush salad to avoid soggy pita chips. And sometimes we just leave the pita chips on the side for people to top their salad with, especially if we know any of the guests are gluten-free.
I do recommend tossing the veggies with the dressing at least 15 minutes before serving because it allows everything to marinate in the delicious dressing.
Remember to taste the salad and adjust the salt. If one bite doesn't make you feel like there's a party in your mouth, I guarantee you it needs more salt. Every type of salt works so differently so it's important that you trust your taste buds and don't strictly adhere to my salt measurement.
And that's it! Now you can make the best Lebanese fattoush salad ever. It doesn't get more authentic than this recipe. This salad is flavorful, refreshing, and so good for you. I really hope you make it!
Substitutions and Variations
This recipe is naturally vegan and dairy-free. I highly recommend following this recipe as is for the most delicious and authentic fattoush salad.
Gluten-free: Simply omit the pita chips or look for gluten-free pita bread.
Vegetables: Feel free to throw in any other seasonal produce that you enjoy.
Pita chips: You could sprinkle sumac or zaatar on the pita bread before toasting if you want a little extra flavor on them.
Protein: Fattoush salad makes for a light, vegetarian meal, but if you want you can top it with some grilled chicken or other meat. Alternatively, you could toss in some cooked chickpeas for plant-based protein, which I actually really enjoy in it.
Tips on Making The Best Authentic Fattoush Salad
Buy the highest quality ingredients you can afford. Farmers markets are a great place to get the best and freshest produce that's in season. If the vegetable doesn't taste good on its own, your fattoush will not taste its best. Same goes for the olive oil and everything else in this recipe.
Don't use store-bought pita chips. The extra step to make your own pita chips at home is well worth it, trust me.
Buy the thinnest pita bread you can find. Lebanese pita bread is much much thinner than most pita bread sold in regular grocery stores in the US. Avoid the thick and fluffy pita pockets. Authentic fattoush is made with very thin and crispy pita chips.
Don't skip the pomegranate molasses and sumac. The salad will still taste great without them, but it won't taste nearly as amazing as using them. These two traditional ingredients give fattoush it's signature flavor.
Season generously. Often times the difference between an okay salad and an amazing salad is how well it's salted. Salt brings out the delicious flavors in the vegetables, herbs, and the dressing. So if you taste it and there's no party in your mouth, add more salt.
Frequently Asked Questions
Can you make fattoush ahead of time?
You can prepare all three components of fattoush ahead of time and store them separately. The chopped veggies and herbs can be stored in the fridge for a couple days, the dressing can be stored in the fridge for up to a couple weeks, and the pita chips can be stored at room temperature for several days. Toss everything together just before serving.
How long will fattoush keep?
Fattoush is best enjoyed the day of because as the salad sits it gets soggy. Leftovers should be stored in an airtight container in the fridge and consumed the next day.
See My Latest Recipes For More Delicious Ideas
If you've tried making this Authentic Fattoush Salad or any other recipe on Forks & Foliage, then please don't forget to rate the recipe and leave a comment below! I would be so happy to hear how it turned out for you. And if you took any photos or videos, please share them with me on Instagram @forksandfoliage so I can see the deliciousness you made!
📖 Recipe
Authentic Fattoush Salad
This authentic fattoush salad recipe is what summer is all about! A combination of summer's best produce is tossed with a zesty dressing and crunchy pita chips for the ultimate bread salad.
Print
Pin
Rate
CALORIES PER SERVING:
245
INGREDIENTS
Salad
1

head

romaine lettuce

,

chopped

1

cup

purslane leaves

,

stems removed

3

persian cucumbers

,

sliced into half moons

3

tomatoes

,

diced

4

radishes

,

sliced into half moons

1

bell pepper

,

any color, diced

3

green onions

,

thinly sliced (both white and green parts)

1

cup

fresh mint

,

chopped

1

cup

flat-leaf parsley

,

chopped
Pita Chips
2

loaves

thin pita bread

1

tablespoon

olive oil

¼

teaspoon

kosher salt
INSTRUCTIONS
Preheat the oven to 400°F. Brush both sides of the pita bread with olive oil and sprinkle with salt. Cut them into one inch squares and spread on a baking sheet. Bake them for 8 to 10 minutes, or until they are golden brown and crunchy. Set aside.

In the meantime, chop all the vegetables and herbs and place them in a large bowl.

In a small bowl, combine the olive oil, lemon juice, pomegranate molasses, garlic, sumac, dried mint, and salt. Mix thoroughly and set aside.

A few minutes before serving, toss the salad with the dressing until fully coated. Taste it and adjust the salt as needed.

At the last minute, toss the pita chips into the salad and serve. Alternatively, leave the pita chips on the side and let each person add it to their salad plate to prevent soggy pita chips.
NOTES
Make Ahead Tip: You can prepare the different components of fattoush salad several days in advance, and toss everything together just before serving.  Sourcing: All the ingredients can easily be found at your local Middle Eastern market and maybe even in the ethnic aisles at regular grocery stores. Otherwise you can order them online through the links in the recipe card. Storage: Fattoush salad is best enjoyed immediately because the vegetables and pita chips get soggy after a while. Store any leftovers in an airtight container in the fridge and consume the next day.
NUTRITION
Calories:
245
kcal
|
Carbohydrates:
25
g
|
Protein:
5
g
|
Fat:
15
g
|
Saturated Fat:
2
g
|
Polyunsaturated Fat:
2
g
|
Monounsaturated Fat:
11
g
|
Sodium:
998
mg
|
Potassium:
663
mg
|
Fiber:
5
g
|
Sugar:
7
g
|
Vitamin A:
11661
IU
|
Vitamin C:
63
mg
|
Calcium:
110
mg
|
Iron:
3
mg
Nutrition information provided is an estimate and may vary.
Did you make this recipe?
Mention @forksandfoliage or tag #forksandfoliage so I can see your delicious creations! And please don't forget to rate and comment below!