This Lebanese 7 spice recipe is a staple blend of spices in every Middle Eastern kitchen. It is so aromatic and flavorful, and makes a perfect addition to grilled meats, stews, and more. You can make the blend from whole spices for the best flavor and aroma, or from pre-ground spices if you are short on time.
As the name implies, Lebanese 7 spice is a blend of, well, seven ground spices. In Arabic we call it "sabaa baharat". Sabaa means seven, and baharat is the plural form of the word "bahar", which means spice in Arabic.
You may have heard of "baharat" before, which is known as a Middle Eastern spice blend and is commonly found in many grocery stores. Sometimes baharat will include paprika, which gives the spice blend a reddish color as opposed to the brown color of our traditional seven spice blend. Aside from that, they are very similar and both make an excellent all-purpose seasoning, especially for Middle Eastern recipes.
As with many recipes, there are many variations of the Lebanese 7 spice blend. Every region and family makes it slightly differently and with their own twists. And despite its name, some blends include more than seven spices (guilty!).
The recipe I'm sharing with you today is largely based on my mom's own recipe. It has a couple small but optional additions that I like to include.
Once you make a fresh batch of this Lebanese seven spice, you can use it to make the best beef and lamb shawarma, an easy one pan Mediterranean baked chicken, or quickly whip up some crispy arayes with cheese. It's so easy to make your own Lebanese seven spice blend, you'll never go back to store-bought!
Jump to:
Ingredients
Allspice: Frequently used in Lebanese cuisine, allspice tastes like a combination of cinnamon, cloves, and nutmeg. It is the dried, unripe berry of the Pimenta dioica tree, also known as the myrtle pepper, pimento, and Jamaica pepper.
Black peppercorns: Commonly used in all cuisines, black pepper has a sharp aroma and packs quite a bit of heat with its earthy flavor. The peppercorns are the dried fruit of the a flowering vine family called Piperaceae.
Cloves: A warm spice with a sweet and woody flavor. Originating in Indonesia, cloves are the dried flower buds of a tree in the family Myrtaceae, Syzygium aromaticum.
Cinnamon: More commonly associated with desserts, cinnamon is a spicy, sweet, and earthy spice that is frequently used in savory dishes in Lebanon. Cinnamon sticks are made from the inner bark of various cinnamon trees.
Cardamom: Very common in Middle Eastern cuisine, cardamom has a strong herbal and slightly citrusy flavor and aroma. Cardamom pods are the seed pods of several plants in the ginger family, originally from India.
Nutmeg: A very intense spice with a nutty, warm, and sweet flavor. Nutmeg is the seed, or pit, of the yellow fruit of the nutmeg tree which is native to Indonesia.
Ginger: Ginger root is a spicy, earthy, and warm addition to this blend. It comes from the rhizome, or underground stem, of the flowering ginger plant.
Cumin: It has a rich, savory flavor that's warm and hearty. Cumin seeds are found in the herb Cuminum cyminum, a member of the parsley family, which are then dried for culinary use.
Coriander: The seeds have a sweet, citrusy flavor profile that is much more mellow than the fresh herb. Also known as cilantro, coriander is an annual herb in the family Apiaceae from which the seeds are obtained and dried.
Like I said, there are many variations of the Lebanese 7 spice. I have found that the foundation of the blend includes allspice, black pepper, cloves, cinnamon, and nutmeg. From there, you'll find recipes that include any two of the last four spices in the list.
My mom's blend calls for the first seven spices above. The last two are optional if you want to limit it to seven spices. But if you're feeling extra like me, add them in for more flavor.
See recipe card for ingredient quantities and directions.
Step by Step Instructions
Check out these step by step photos and instructions on how to make this traditional Lebanese seven spice recipe to help you replicate it at home!
Using Whole Spices
Step 1: Gather all the spices. Use a kitchen scale to weigh the whole spices for more accuracy, or use volume measuring tools. Set the ground ginger aside from the whole spices.
Step 2: Dry-roast the whole spices. Place the whole spices in a dry skillet over medium heat and stir continuously until the spices become very aromatic and completely warmed through. If the cinnamon stick is large, break it into smaller pieces. Be careful not to over-toast the spices, as that would make them bitter. Dry-roasting should take no more than 3 to 5 minutes.
This step is technically optional, but if you are going through the effort of grinding your own spices, I highly recommend not skipping the dry-roasting. When you dry-roast whole spices, the heat makes the spices release aromatics that break down and then recombine, creating new compounds and resulting in a much more complex and bold flavor.
Another reason to dry-roast your whole spices is to get rid of excess moisture and make the spices crisper, which then makes it much easier to grind the spices into a fine powder.
Step 3: Cool and grind the spices. Once you've roasted the spices, transfer them to a bowl to cool slightly. If you haven't already, break up the cinnamon stick into smaller pieces before grinding. Transfer the spices into a spice grinder and grind into a fine powder.
An electric spice grinder is a useful and compact tool to have in the kitchen if you want to make the most out of cooking with spices. If you don't have one, you could manually grind the spices using a mortar and pestle and some elbow grease. You could also use a microplane to grate the nutmeg and cinnamon stick.
Another option to grind the spices is using a high-speed blender. But for it to blend sufficiently, you will need to make a large batch of the spice blend. I would recommend multiplying the recipe at least by 4 if using a blender.
Note: If using an electric spice grinder, it may seem like it's not grinding the whole nutmeg or cinnamon sticks that well at first. But be patient and keep grinding. If after a couple minutes it hasn't pulverized them, sift the spices and return the non-powdered spices to the grinder and grind them to a fine consistency.
Step 4: Add the ground ginger. Once the spice blend is finely ground, add the ground ginger and give it a quick blend to incorporate.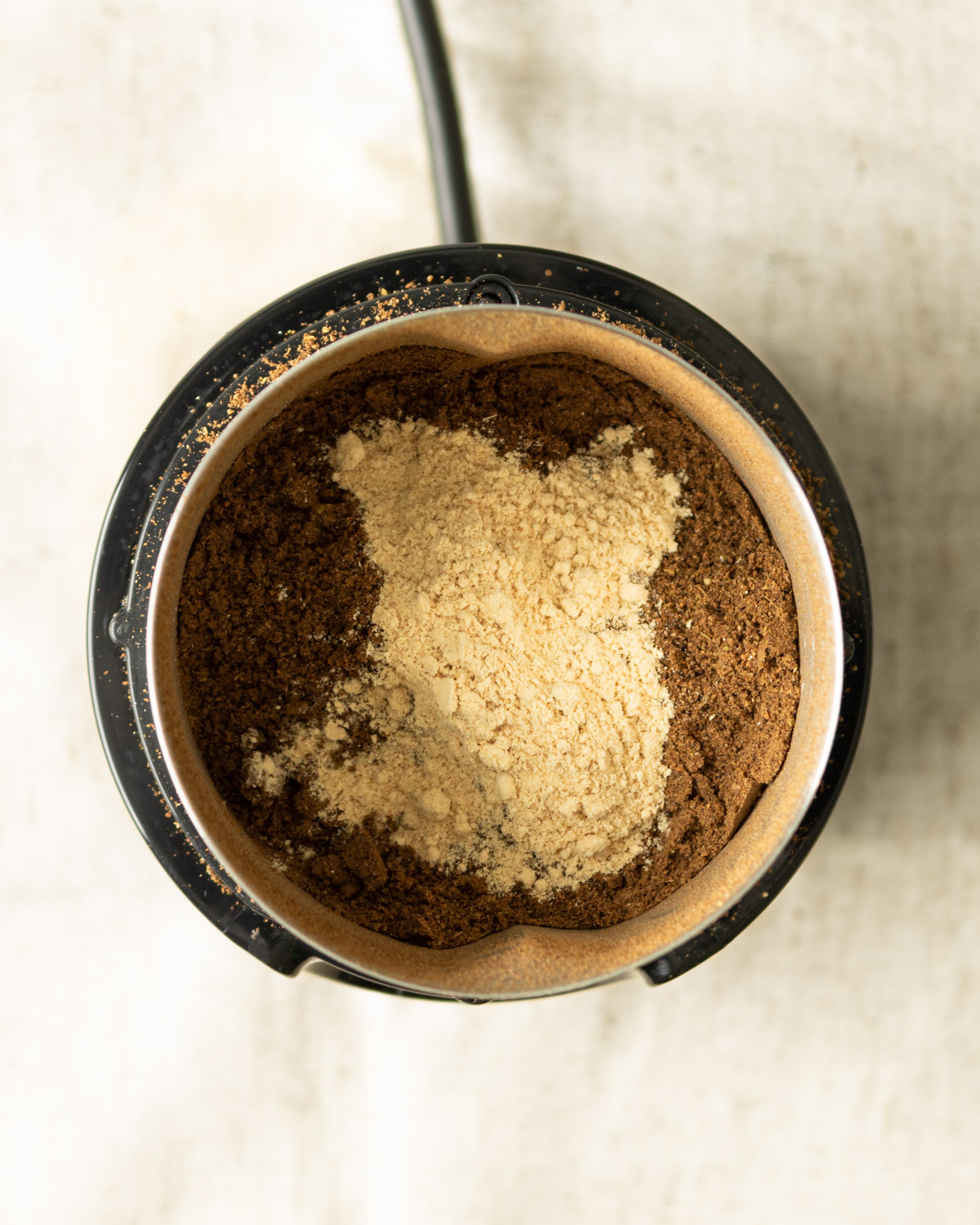 Step 5: Sift the spices. This is optional, but I recommend sifting the spices through a fine mesh sieve. This keeps out any small pieces of spices, if any, from landing in your mouth when cooking with this spice blend. If there are only a few pieces, you can discard them, but if there are many, re-blend them and add them to the ground mixture.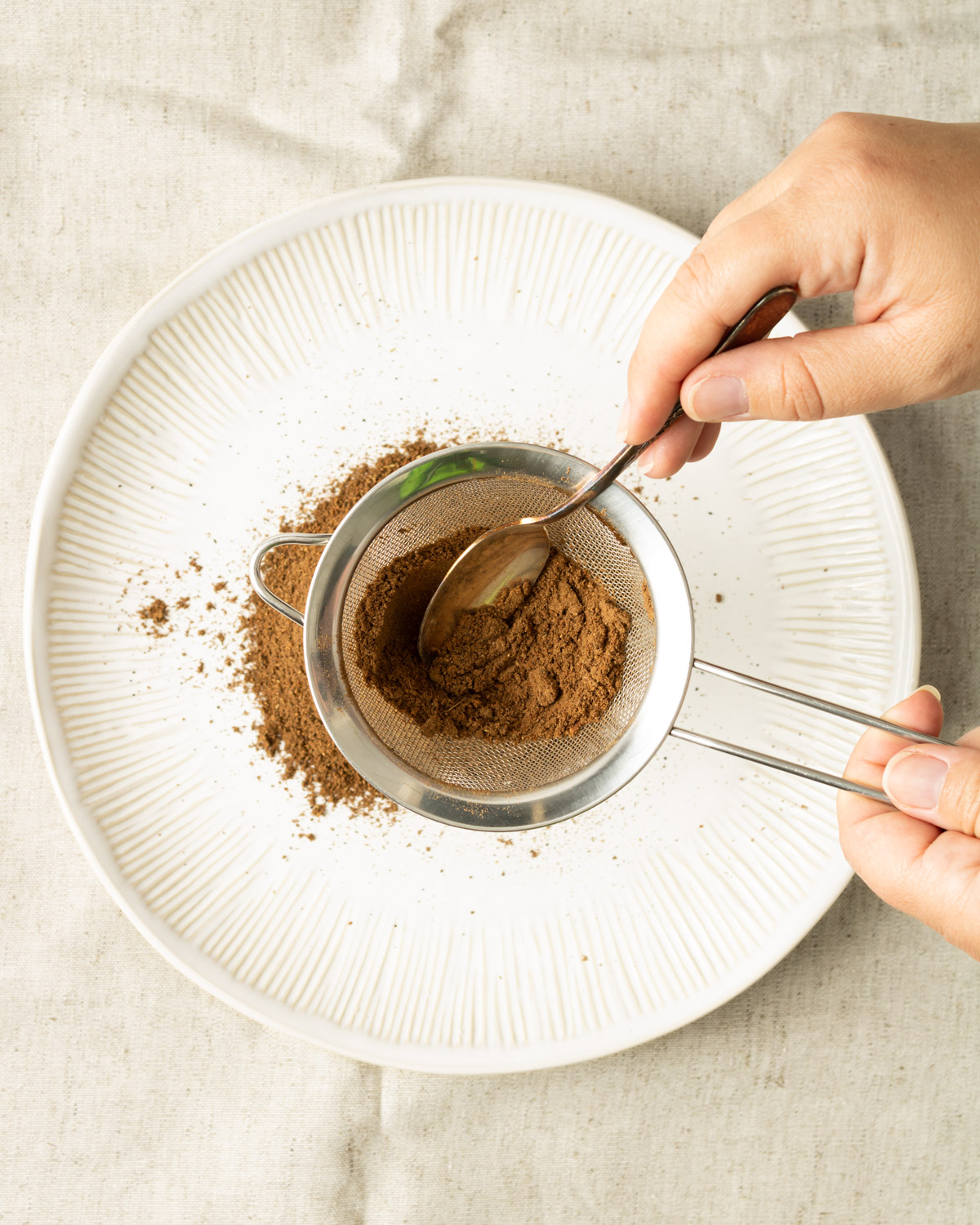 Step 6: Store the spice blend properly. To maintain freshness and flavor, store the Lebanese 7 spice mixture in an airtight container, preferably a glass jar, in a cool, dry, and dark place. A cabinet away from the stove or oven and where the temperature is consistently cool would be best.
Using Pre-Ground Spices
If you don't have whole spices (or don't have time!), you can still make this Lebanese 7 spice blend using pre-ground spices from the store.
Step 1: Simply measure out all the ground spices into a bowl, and use a small whisk to fully combine them.
Step 2: Transfer the spice blend into an airtight container and store in a dry, cool, and dark place.
Unlike using whole spices, it isn't a great idea to dry-roast the ground spices. This is because the ground spices have a much larger surface area which makes them prone to burning and developing an unpleasant or bitter flavor.
Blooming Ground Spices
To make the most out of your ground spices, whether you grind them yourself or buy them ground, I highly recommend blooming the spices.
Blooming spices is the process of heating up the spices in fat. This makes them release their fat-soluble compounds and results in a much more aromatic and complex flavor.
The simplest way to bloom your ground spices is to add them during the last couple minutes of cooking your aromatics in hot oil, and always before adding a liquid. You will notice that by doing so, it will become very fragrant. Once that happens, you can then add in your liquids and continue on with the recipe.
Many recipes will often instruct you to add spices later in the cooking process, but to unlock the full power and flavor potential of the ground spices, I highly recommend always adding your spices before any liquid, so they have a chance to bloom in the hot oil.
When To Use Baharat
Almost every Lebanese meat dish calls for baharat, or 7 spice, so there is no shortage of recipes to use this seasoning in. Some of my favorite ways to use it is in beef and lamb shawarma, crispy arayes with cheese, and the easiest one pan baked chicken and potatoes. Another delicious recipe to use it in is hummus with spiced meat.
Of course, feel free to experiment in the kitchen and use the Lebanese 7 spice any time you want to add a boost of warm flavor. It would go great in some rice with vermicelli, as a dry rub for meat and fish, a seasoning for roasted veggies, braised green beans, soups, stews, dips, and so much more! I hope you enjoy your delicious blend of Lebanese 7 spice as much as I do and always keep it stocked in your pantry.
Happy cooking!
Substitutions and Variations
Lebanese 7 spice has quite a few variations across regions and families in Lebanon. Below are some other spices you may find in other blends. Feel free to experiment with the combos and quantities of spices to make a blend you love! With that said, I recommend at the very least including allspice, black pepper, cinnamon, cloves, and nutmeg, since these spices capture the essence of Lebanese cuisine.
Tips To Make The Best Baharat
Use whole spices and grind them yourself.
Dry-roast the whole spices before grinding.
Make a small enough batch that you can use up within 3 to 6 months in order to always have the freshest spice blend.
Store the ground spice blend in an airtight, glass jar in a cool, dark, and dry place.
Frequently Asked Questions
What does Lebanese 7 spice taste like?
The combination of spices creates a warm, earthy, and highly aromatic flavor that complements Middle Eastern dishes. It pairs especially well with beef and lamb dishes.
Is there a difference between Lebanese 7 spice and baharat?
In Arabic, baharat means spices. So this word is commonly used to refer to our Middle Eastern spice blend. Most baharat recipes include the same ingredients as Lebanese 7 spice recipes, with some having the addition of paprika. However they can be used interchangeably. Whether it's called baharat or Lebanese 7 spice, there will always be some difference because there are many variations out there.
Is ras el hanout the same as Lebanese 7 spice?
No, ras el hanout is a Moroccan spice blend that differs from Lebanese 7 spice. Although they have several spices in common, ras el hanout usually has a much lengthier ingredient list and packs in more heat than Lebanese 7 spice.
How long can I store freshly ground Lebanese 7 spice?
It is best to use the ground spice blend within 6 months. The best way to know if your spices are still good is to smell them. If they don't smell like much, they don't taste like much. As long as ground spices are stored in an airtight container and kept in a cool, dark, and dry place, they technically won't go "bad", but the longer they sit, the more flavor they lose.
Should I store the Lebanese 7 spice in the refrigerator or freezer?
It is generally not recommended to do so unless the spices are in a vacuum sealed container, because you run the risk of exposing the spices to humidity and moisture which can alter the flavor or even spoil the spices. If you need to store a large amount of spices, you can get away with storing them in the freezer. But you need to avoid taking them in and out of the freezer frequently, because the temperature fluctuation can create condensation and eventually mold. As mentioned earlier, the best way to store it is in an airtight glass jar in a cool, dark, and dry cabinet.
Other Lebanese recipes to try
If you tried this Lebanese 7 spice recipe, I'd love to know how it turned out for you! Leave a star rating & review below, and make sure to tag me on Instagram with a photo or video of your creation!
📖 Recipe
Lebanese 7 Spice (Baharat)
This Lebanese seven spice blend is a staple in every Middle Eastern pantry. It is a warm and flavorful blend of spices that complement meat dishes, soups, and roasted vegetables. You can make it from whole spices for best flavor or from pre-ground spices if you're short on time.
Print
Pin
Rate
SERVINGS:
24
teaspoons (½ cup)
INGREDIENTS
30

grams

whole allspice

,

4 tablespoons

12

grams

whole black peppercorns

,

1 ½ tablespoons

6

grams

whole cloves

,

1 tablespoon

4

grams

whole cinnamon stick

,

1 medium stick

3

grams

whole nutmeg

,

1 medium whole nutmeg

3

grams

whole green cardamom pods

,

15 pods

3

grams

ground ginger

,

1 ½ teaspoons

3

grams

whole cumin seeds

,

1 ½ teaspoons (optional)

3

grams

whole coriander seeds

,

1 ½ teaspoons (optional)
INSTRUCTIONS
Place all the whole spices in a dry fry pan over medium heat, stirring constantly until the spices are very fragrant and warmed through, about 3 to 5 minutes. Transfer to a bowl to cool slightly.

Transfer all the toasted spices to an electric spice grinder. Break up the cinnamon stick into smaller pieces. Grind the spices into a fine consistency.

Add the ground ginger to the spice mixture and give it a quick blend in the grinder.

Sift the spices through a fine mesh sieve over a bowl, then re-grind any pieces of spices that have remained in the sieve until they are finely ground, then combine with the rest of the blend.

Transfer the ground Lebanese 7 spice blend into an airtight jar and store in a cool, dry, and dark place for up to 6 months.
NOTES
Yield: This recipe yields half a cup of Lebanese 7 spice. 
If using pre-ground spices, combine the following and store in an airtight jar:
4 tablespoons ground allspice
1 ½ tablespoons finely ground black pepper
2 teaspoons ground cloves
2 teaspoons ground cinnamon
1 ½ teaspoons ground cardamom
1 ½ teaspoons ground ginger
1 teaspoon ground nutmeg
1 ½ teaspoons ground coriander (optional)
1 teaspoon ground cumin (optional)
NUTRITION
Calories:
8
kcal
|
Carbohydrates:
2
g
|
Protein:
0.2
g
|
Fat:
0.3
g
|
Saturated Fat:
0.1
g
|
Polyunsaturated Fat:
0.1
g
|
Monounsaturated Fat:
0.1
g
|
Trans Fat:
0.001
g
|
Sodium:
2
mg
|
Potassium:
30
mg
|
Fiber:
1
g
|
Sugar:
0.1
g
|
Vitamin A:
12
IU
|
Vitamin C:
1
mg
|
Calcium:
17
mg
|
Iron:
0.3
mg
Nutrition information provided is an estimate and may vary.
Did you make this recipe?
Mention @forksandfoliage or tag #forksandfoliage so I can see your delicious creations! And please don't forget to rate and comment below!